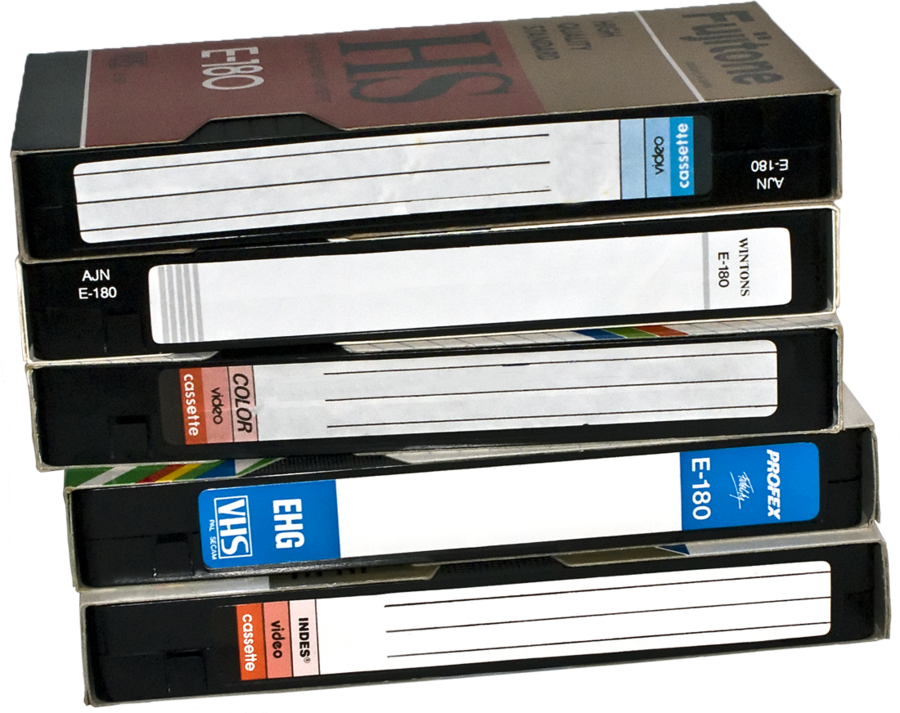 Tapes to digital transfer
is a very good thing. Video tapes, be it VHS videos or camcorder tapes deterriorate as time goes by.  National Video Center is the expert in safely transferring your precious home movies from VCR tapes to DVD. We can do those tapes to digital and DVD transfers whether you have tapes with TV programmes you'd like to keep (please note you can only use them for your own enjoyment and archival purposes TV programmes are copyright and cannot be legally uploaded to Youtube, for  example, without the permission). Or the home videos and movies where you are the copyright holder, so there's no restrictions whatsoever. You can copy the DVD's and digital files we create as you see fit.
We clean and repair broken video tapes
Before we transfer videos to digital files or DVD we clean and reapir the tapes if necessary. Basic cleaning is done free (except for mould removal) with every job, along with winding backwards and forwards for the video tape integrity. Repair of the video tape done at the very compatitive rate and can include tape splicing, removing the chewed up bits and the complete body/case transfer, where the intact tape is transferred to a new video or audio cassette body. We repair and transfer VHS to DVD, VHS-C, 8mm, miniDV and Betamax at very affordable rates. Then we perform tapes to Digital  transfer. And you get your tapes back, of course.
Quick turnaround and all jobs done in-house. No overseas facilities used.
Have you noticed that some operators are cheap, but take forever to do the job? Have you asked yourself why? The fact is that there are large companies overseas that offer bulk video tape processing at very low rates. But being large and having jobs coming from all around the world the mistakes are inevitable. It is not uncommon to get the wrong videos sent back or someone else's files or DVD's when using those overseas facilities. And almost zero chance to get it sorted. And how you are going to replace your precious home videos if the whole parcel sent overseas by Australian agent gets lost or damaged? That's why we never farm jobs to third parties. All jobs are done in house and your videos never leave our premises (unless we send your job back to you by registered mail using Australia post or Courier – which is safe).
Preserving the videos and uploading them to Cloud.
Our clients often ask how to be safe and not to loose the precious memories, once the transfer is done. Are DVD's going to last forewer? Probably not. They are getting out of fashion already and after 20 years or so it will be pretty difficult to even find a working DVD player. We always recommend keeping valuable videos in at 3 different forms. One being a physical  DVD or digital files on flash drives. The second place is the hard drive of your computer. And, most importanly the third – an external Cloud storage facility. One can upload the files to Cloud service, like Dropbox, for example and access them anywhere anytime, even in case where the physical copies are not available anymoe, for whatever reason. Plus do not throw your original videos away. Just as a bit of an extra assurance.
Don't delay, send your enquiry right now using the form below or phone 0437 822 357.

Super VHS | VHS-C | Video 8 | Hi 8 | Digital 8 | Mini DV | DV | Beta | Betacam SP | U-matic | PAL | NTSC | 8mm Film Transfer | Full HD | USB Flash Drive Duplication | CD Duplication | DVD Duplication | CD Replication | DVD Replication | Canberra Transfers | Find us in the Yellow Pages | CD DVD USB | SD Memory Card | 35mm Slides Scanning | CD and DVD Burning | Audio compact cassettes to mp3 transfer | MP4 MOV AVI Transfers | Links |Minidisc to CD and mp3 | Vinyl Records LP EP 78 to CD and mp3 | Mobile Phone and Smartphone Video to DVD transfer | Hard drive HDD Camcorders | AV Preservation | Video Cassettes | Rural NSW | Delivery | YouTube Video Help | Regional | Videography | NSW | NSW1 | ACT | Camcorder | iTunes | Home Movies | Australia | Conversion | Ad | Transfers | Converting | Repair | Reel to Reel Audio | CD DVD Label Printing | Microcassettes to CD transfer | Audio cassettes repair plus CD and Mp3 transfer | Scanning slides and transparencies onto USB stick, hard drive or memory card in high resolution| Video to USB transfer Canberra, NSW and South Coast | VHS to Digital on USB | Mini DV to USB Canberra | Slides Transfer | Video Conversions USB digital Mp4 Canberra |Video Duplication and Conversion Services | Video digitisation | Video to Digital | Video and Audio Digitization | Capturing Video in Canberra | Turning Video to USB Stick | Transfer VHS to digital files | Digitising Video 8 and Hi8 tapes | Digitising MiniDV Video Tapes | Mini DV to Digital | Digitising videos in Sydney | Video to DVD and digital in Melbourne digitising | Where to Make Slides into Photos | How do I save youtube videos to USB | How to transfer video to DVD tutorial | Video Camera Cassette Tapes to USB or DVD | Video to USB Stick | Digitising | Melbourne | NSW | Sydney | Digital | Video to USB flash drive | Photo Scanning Service Canberra | VHS to DVD Converter | Turning Audio Cassette to CD | Changing Video to DVD or CD | Putting Home Videos to a Computer | How to Transfer Video from your Iphone to USB Flashdrive | Tape to DVD Converter | Vinyl LP records to CD Sydney Melbourne Mp3 | Video VHS  to DVD USB Near Me | Tapes to Digital Transfers | CD and DVD Surface Face Printing Canberra | VHS Mini DV Video 8 to DVD and digital USB in Queensland | Slides Scanning | The Cook Cottage | Russian Interpreting Services and Translations to and from Russian language in Canberra | High Compliance Cartridge on a Technics SL-1200 Turntable – a Possibility? | Used equipment (VCR, Amplifier, Speakers, Subwoofer, Turntable) for Sale | Video Conversion Transfer to mp4 File Format | The Importance of Digitizing Home Videos | Longevity of Video Cassettes and Best Practices for Preservation through Digitization | The Significance of Digitizing Analog Video Archives for Government and Private Organizations | Consumer Analog Video Formats | Preserving Memories: Scanning 35mm Colour and Black-and-White Slides and Negatives | Preserving Old Videos | Preserving Old Photographs | National Video Centre: Preserving Australia's Audiovisual Heritage | Reviving the Past: AI-Powered Restoration of Old Photographs and Films | Is it better to transfer VHS videos to DVD or USB? | What is the best way to convert VHS Video to digital? | The Beauty of Analog: Exploring Audio Recording Formats and Digitizing Methods | How do I transfer video from VHS tapes to my computer? | How to scan and Enhance the Photographs? | How to transfer 8mm film with sound? | Best methods of video capturing for the purpose of digitization | Exploring New Hi-Res Audio Formats and the Evolution of Online Music Streaming | Embracing Innovation: Exploring New Methods of Scanning Slides and Negatives | Converting Microcassettes to Digital Files | Converting Vinyl Records to Digital Files | Video Transfer Services Near Me | Converting VHS Tapes to Digital Format | Transfer cassette tapes to MP3 | Converting 8mm film to digital | Convert MiniDV Tapes to mp4 on USB | Audio cassette to digital conversion services | Digitalize Hi8 tapes | Transfer Betamax tapes to digital format | Video to USB transfer services | Audio cassette to CD conversion |